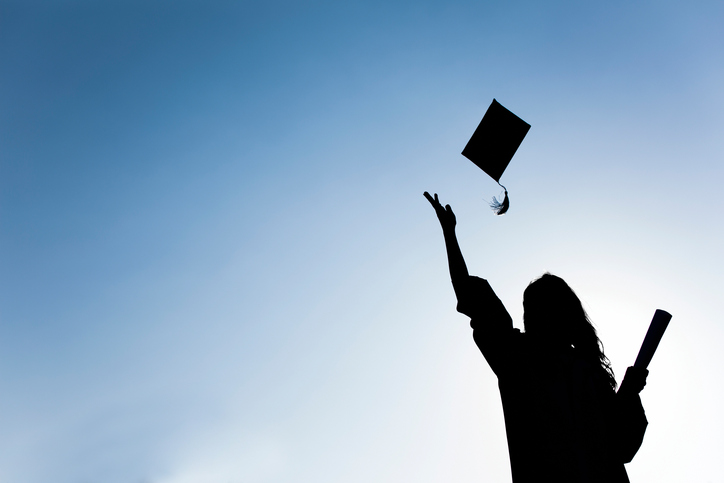 If you or a loved one are graduating college this year, you may be feeling overwhelmed when it comes to job prospects, and balancing your post-grad financial situation. You're not alone. A recent Experian study on college graduates highlights a sobering dichotomy: While 69 percent of those surveyed said they have student loan debt, 70 percent said their alma maters don't do enough to prepare them for real-world personal finance. Research from KeyBank echoes similar sentiments: nearly 20 percent of those surveyed know their financial goals, but are not confident they know how to reach those goals.
To help bridge the personal finance confidence gap, KeyBank offers the following insight to college graduates (and their parents, guardians and others):
Build a budget.
That first full-time job paycheck might look like a lot of money to recent graduates more accustomed to managing pay from part-time, campus and summer jobs. Now's the time to build a budget that takes into account all new economic realities including student loan payments, rent, utilities, transportation costs, career clothing, insurance and food.
"At this stage in life, budgeting really begins with knowing your take-home income, your student loan debt and then making lifestyle choices that keep expenses within 90 percent of that income," says Stephen D. Fournier, KeyBank Central New York market president and regional network deposits sponsor.
Establish a savings strategy.
Fournier recommends a three-pronged approach to savings that provides for short-term goals, long-term goals and saving for retirement.
"Start to build your emergency savings with a goal of saving enough money to cover three to six months in living expenses. That way, you won't have to rely on credit cards to cover a major unexpected expense such as a car repair," Fournier says. Establish a second account for long-term goals such as home down payments, down payments on vehicles and travel.
Next up is a retirement savings plan.
Take full advantage of employers' 401K plans by allocating at least enough to qualify for any available 401K employer match, and then making a commitment to increase that contribution by 1 percent every year until you're saving 10 to 15 percent of your salary.
"Investing sooner rather than later, whether it's in your retirement account, or in addition to retirement, is the single most effective way to be more confident about your personal finances," says Marc Vosen, president of Key Investment Services. "Time is the one thing you cannot get back, and time has a major impact on investment results. Young investors need to understand the effect of compounding and how a small investment, over time, can go a long, long way."
When it comes to credit, know the score.
Like investing, there's no time better than right now to start managing credit, whether that means managing a credit score or managing credit card debt.
"People talk about good credit and bad credit, but it's really a question of managing credit rather than categorizing it," says Gary Chavoustie, KeyBank Connecticut market regional sales leader and regional network consumer loans sponsor.
Establishing and managing a credit score is important for college graduates, as credit scores can affect their ability to rent housing, access utilities or eventually obtain a low-interest loan for major purchases.
And good credit scores begin with managing credit payments, including student loan payments and credit card debt, by paying bills on time and keeping any credit card debt at a minimum.
"Credit cards are a useful personal finance tool. They are not, however, the entire tool kit. Think of credit cards as something you use on as-needed basis, with need defined as a large, one-time expense you will pay off promptly," Chavoustie says.
Source: www.key.com/.
Published with permission from RISMedia.