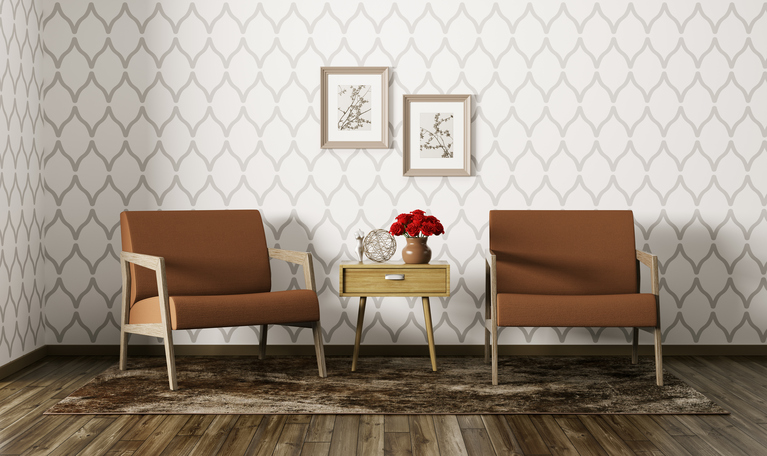 My sister bought a co-op on Manhattan's Upper West Side last year. After several rounds with the contractors and months of renovations, she invited me over to see the stunning results. She was finally thrilled with the space. "Well, except for that bathroom," she said with an eye roll toward the guest bath, which is covered - walls and ceiling - with wall paper.
The term "wall paper" feels almost politically incorrect, so reviled has it become over the years as a design option. But truth be told, after a few visits to my sister's place, I discovered that I actually liked that funky chinoiserie wall paper in the bathroom - and apparently, I wasn't the only person to say so. In fact, upon further research, it seems like wallpaper is making a comeback.
According to an article in The Washington Post, wallpaper's renaissance can be attributed to a new swath of fashionable prints and interesting textures - not to mention sorely needed improvements to the installation and removal process. The real game changer for wallpaper, however, has been exposure, thanks to the likes of HGTV, social media and style bloggers.
Ready to rethink wallpaper for your next design project? Here are some key trends to consider from realtor.com blogger Jamie Webb:
Metallic
Whether it's used in bold stripes, geometric patterns or a more detailed prints, metallics add a contemporary look to walls. A word of caution from Webb: Metallics tend to emphasize any errors made during a DIY install, so you might want to consider a pro.
Silk
This elegant wallpaper treatment involves applying silk threads to a paper backing. Considered a very "delicate" style, it is most appropriate for dining rooms and bedrooms as opposed to more lived-in areas like your kitchen.
Embossed
Embossed wallpaper allows you to create worldly plaster work designs such as the fleur-de-lis or acanthus leaves. Painting after application brings out the raised, textured effect, says Webb.
Embellished
Many of today's wallpapers feature beading, recycled tile and glass to give walls a dramatic, mosaic effect. Some designers even offer hand-painted accents for a customized look. Keep in mind, embellished wallpapers are very expensive so save this option for a small space or accent wall.
Geometric
From cubes and herringbone to blocky and bold, geometric patterns are in big demand. You may want to start with an accent wall, however, as these striking desigins could easily overwhelm an entire room.
Digital prints
Thanks to modern technology, wallpaper is no longer limited to repeating patterns but rather can encompass an entire, mural-like scene, from the night sky to a watercolor painting. You can even turn your favorite image into wallpaper, so the sky's the limit!Whatever option you choose, the most important place to start is by changing your mindset toward wallpaper. Doing so will open up a world of interior design options.
Published with permission from RISMedia.