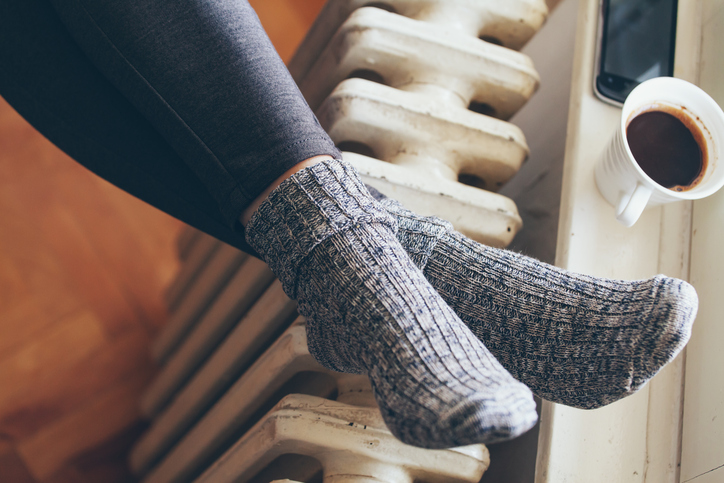 As the weather cools, we tend to turn inward and crank up the heat. While this is a great idea for staying cozy, it can lead to some health and safety problems. Here are some tips to stay safe.
General furnace safety
If you're turning on your furnace for the first time in months, remember to:
- Never store or use highly flammable products in the same room as any natural gas or heat-producing appliances.
- Never store ordinary combustibles such as rags, mops or paper on or near an appliance.
CO poisoning prevention
Heating units and other appliances should be properly maintained to avoid the threat of carbon monoxide (CO) poisoning. Have natural gas furnaces checked at least once a year by a licensed heating contractor. In addition:
- Vacuum and clean in and around the furnace regularly, particularly around the burner compartment, to prevent a build-up of dust and lint.
- Never store items in, on or around an appliance as this can obstruct airflow.
- Most forced-air units have a filter that cleans the air before heating and circulating it throughout the home. Check furnace filters every month during the heating season and clean or replace the filter when it becomes visibly dusty or dirty.
- When installing a new or cleaned furnace filter, be sure to re-install the front panel door of the furnace properly so it fits snugly. Never operate the furnace without the front-panel door properly in place because doing so may create the risk of producing CO.
- Check the appearance of the furnace flame. If the flame is yellow, large and unsteady, the furnace needs to be inspected immediately by a licensed heating contractor to have the condition corrected.
- Never use an unvented natural gas heater in a home.
- Never use an oven, range or outdoor barbecue to heat your home. These appliances are not designed for this purpose and can cause CO poisoning.
- Make sure all natural gas appliances—such as stove tops—are safely maintained and vented properly.
-Install a CO alarm in your home. Though these alarms may provide an extra level of safety, keep in mind that they require routine maintenance and replacement at least every three to five years to perform properly.
- Even with alarms in place, regular natural gas appliance maintenance is still required. Inspection and routine maintenance are still an effective defense against accidental CO poisoning.
- If you suspect that you or someone else is suffering from CO poisoning, call 911 immediately.
Source:
www.socalgas.com
Published with permission from RISMedia.