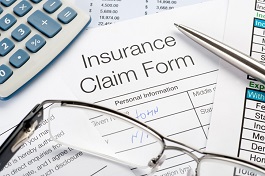 Before you mix up the egg nog and deck the halls, take a good look around. While the holidays bring lots of merriment to your home, they also introduce a new set of hazards to both your property and your person. Consider these top five seasonal insurance claims, according to Franklin Mutual Insurance (FMI), and take the following precautions.
1. Fire.
Christmas trees, turkey fryers, candles, fireplaces, electric heaters and even wrapping paper can be at the root of a conflagration. Unplug lights, turn off ovens and heaters, never leave a lit candle unattended, and fry the turkey outdoors at a safe distance from the house or garage.
2. Burst pipes.
If you're headed out of town, be sure to keep your thermostat set at 55 degrees Fahrenheit to prevent pipes from freezing and bursting.
3. Damage caused by outdoor decorations.
A good wind is all it takes for that snowman lawn ornament to become a dangerous projectile. Make sure your outdoor lights and décor are properly secured with hooks and tethers.
4. Theft.
Keep your lights on timers, have a neighbor collect your mail and avoid piling up empty gift boxes at the curb when you're out of town. All of these are red flags to thieves that you're not home.
5. Ice-related accidents.
Be sure to have plenty of rock salt on hand, and make sure someone's manning the shovel to keep driveways, stairs and entryways clear.
According to Dale Martin, co-vice president of claims for FMI, while homeowners should take the necessary steps to help prevent the above mishaps from happening, they should also be aware that not everything is covered through a standard homeowner's policy.
For example, "If a homeowner is using a ladder to hang Christmas lights, slips and injures his or her back or leg, homeowners insurance will not cover the homeowner's medical bills," says Martin. "However, if a caroler slipped on a homeowner's icy walkway, homeowners insurance would cover the claim if the insurer found the homeowner negligent. It would be covered under Bodily Injury Liability coverage."
If you do fall victim to a seasonal snafu, Martin recommends the following steps for efficiently and effectively filing an insurance claim:
Prepare a home inventory before a loss occurs. In the event of a fire or catastrophe, a home inventory list helps insureds and insurers identify the personal belongings and their respective value. "We recommend taking photos or videos of each room in the house along with the contents," adds Martin.
Take photos of the damage or loss.
When reporting the claim, provide a detailed description of the loss. If property is lost or stolen, list the value of items and provide receipts, if possible.
Prevent further damage by taking temporary precautions—i.e., placing a tarp over a damaged roof to prevent further water damage or boarding up a window that was broken. "Avoid making permanent repairs before speaking with your insurance agent or carrier," advises Martin.
As you head into the new year, take the time to reassess your homeowners insurance. "It's important to schedule an annual insurance review with your independent agent," says Martin. "As your insurance needs change through the years, your agent is there to help make sure you have the most appropriate coverage to protect your home and family year-round."
For more information about insurance claims, contact our office today.
Published with permission from RISMedia.